Magnum Condoms
With the iconic golden wrapper, Magnum condoms made by the world-renowned manufacturer Trojan are a force to be reckoned with! Coming in a larger size than your average sheath, Magnum condoms give you the room and comfort that you deserve to get the most out of every sexual experience. Sporting an elegant black and gold box, Magnum condoms would not look out of place on your top shelf -never mind your bedroom drawer. When you feel comfortable, you can perform at your best. Therefore opting for a larger size condom like the ones provided from Magnum can really make a difference to the fun you have between the sheets!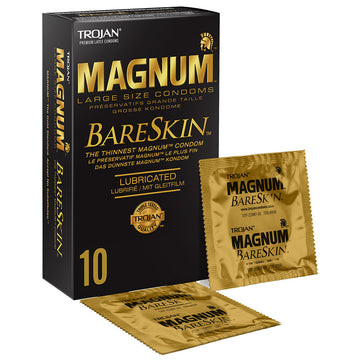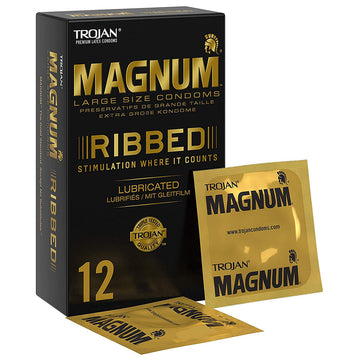 What are magnum condoms?
Magnum condoms are large size condoms, typically with a nominal width between 58mm and 60mm. In general, magnum condoms are about 30% bigger than standard condoms. As most condom sizes, the magnum size isn't regulated in any way. In other words, brands can name their condoms magnum to refer to condoms that are larger in width, length, or both.
Like condoms in all other sizes, magnum condoms can fit a range of penis sizes. Depending on the brand, magnum condoms can offer a looser or tighter fit.
Are magnum condoms large or extra large?
The majority of magnum condoms are large in size. However, each brand can use a different standard. For instance, Trojan's Magnum XL condoms have the same size as the large condoms from Pasante or EXS.
Another example is Lelo Hex Respect XL, which the brand considers extra large, but that only has a nominal width of 58mm. To make sure the magnum condoms you want will suit you, check out the actual dimensions on the condom's packet and compare them with your penis' size.
If you haven't measured your penis yet, grab a tape measure or string and ruler and measure its girth and length.
To measure your penis girth:
Wrap the tape measure or string around the thickest part of your erect penis, usually around the middle of the shaft.
Use the ruler to determine the length if you've used a string. This is your penis girth.
To measure your penis length:
Use a flexible tape measure to measure the length of your erect penis from its tip all the way to the base. Push the tape as much as possible against the pubic bone for a correct measurement.
Once you've measured your penis girth and length, fill in our quiz to find out your size and to receive details about the best condoms for you that you can find at Condoms.uk.
Is a magnum condom suitable for me?
There is no absolute rule for who should use a specific condom size, but as a general rule, a condom that fits perfectly is less likely to constrict, reduce sensations, break, or slip off during intercourse.
Most brands size their condoms based on both length and nominal width. As a rule of thumb, you should check the nominal width rather than the length when selecting the right size condom; that's because most manufacturers make their condoms longer than necessary so that everyone with a certain penis girth can find the right size condom.
Men with a penis girth between 121mm and 135mm typically need a large size condom. If your girth fits this category, a magnum condom might be right for you. You can still use regular size condoms that are on the larger side, such as Durex, if you like a snugger fit. However, you should never use a condom that fits too tight or that hurts you.
If you have a penis girth higher than 135mm, a large size condom may be too small and you should buy an extra-large – or jumbo size – condom.
What brands make magnum condoms?
If you care about the name, not the size, you can find magnum condoms from EXS and Trojan.
EXS Magnum
This large size condom has a nominal width of 60mm and is 212mm long. Suitable for those who like natural sensations, the condom is clear transparent in colour, odourless, tasteless, and has a smooth, silky texture. Its main advantage is the ergonomic, anatomical fit with a tighter base and flared head. The teat end gathers all semen to prevent accidental spills. The condom is made of natural rubber latex and is lightly coated with silicone-based lube. With a thickness of only 0.063mm, this condom is perfect for all types of sex.
Trojan Magnum Large Ribbed
Trojan is one of the most innovative brands in the condom world, and the Magnum Large Ribbed truly stands out. At the base, this condom has a regular size rather than magnum – 55mm of nominal width. However, the upper side from mid-shaft towards the head has a nominal width of 62mm. The snugger base ensures a firmer fit, but this condom might not suit men with a larger girth. At the same time, the extra room for the glans heightens the sensations and makes the condom more fun to use. Additional fun is added by the spiral pattern. The raised ribs are placed near the head and near the base of the condom, and are designed to stimulate both partners. This magnum condom is lubricated with an ultra-smooth, silicone-based lube. Like EXS Magnum, this condom is made of natural rubber latex.
If you don't care about the magnum in the name but need a large size condom, here are some of the best choices.
Glyde Supermax
The same nominal width as EXS Magnum but with a different design, Glyde Supermax suits men who need a condom with a nominal width of 60mm and a straight wall. The condom is 200mm long and 0.062mm thick. Like all Glyde condoms, Glyde Supermax is made of natural rubber latex and is vegan certified by the Vegan Society.
Pasante King Size
Made of natural rubber latex, Pasante King Size has a nominal width of 60mm and is 205mm long. This Pasante condom has a smooth texture and feels very soft on the skin. Like Glyde Supermax, Pasante King Size has straight walls.
MY.SIZE 60MM
As its name suggests, MY.SIZE 60MM condom has a nominal width of 60mm. This condom is 190mm long and 0.060mm thick and is made of natural rubber latex. MY.SIZE condoms are manufactured in Germany by R&S Consumer Goods, the same company that also makes Vitalis and ON condoms.
Pasante Unique
Another condom in the magnum range, Pasante Unique, has a length of 190mm and is 0.015mm thick – one of the thinnest condoms on the market. The sheath is almost invisible and delivers skin-on-skin sensations. Pasante Unique is one of the few condoms made of synthetic polyethylene resin – a material that allows the condom to be as strong as latex condoms despite their minimal thickness. Pasante Unique is suitable for people with latex allergies. The product is vegan friendly and suitable to use with all types of intimate lubricants, including oil-based products and Vaseline.
Lelo Hex Respect XL
With a nominal width of 58mm, Lelo Hex Respect XL is a snugger condom, but still large enough to suit those looking for magnum condoms. This is one of the thinnest natural rubber latex condoms. The innovative structure makes this condom unique – Lelo Hex condoms are made of 350 interconnected hexagons that add elasticity and resistance. The hexagon pattern is slightly raised on the condom interior, improving the sheath's grip to the penis. At the same time, these condoms provide extra stimulation to the wearer, whilst a silky, smooth exterior increases glide and prevents irritation for your partner.
Pasante Sensiva
Another option for people with latex allergies Pasante Sensiva is made of synthetic resin, just like Pasante Unique. This condom suits men who need a 58mm condom. One of the main differences between Pasante Sensiva and other magnum condoms is its shorter length of only 180mm. This condom is an excellent choice for men with a thicker rather than long penis. Like Pasante Unique, this condom has a minimal thickness of only 0.028mm. Pasante Sensiva delivers skin-on-skin sensations and has a very smooth texture. The condom is compatible with all lubes, including oil-based lubricants and Vaseline.
Do I have to use condoms for oral and anal sex?
Condoms are essential sexual health products and the only contraceptive method that also protects you against sexually transmitted infections. If your main concern is preventing a pregnancy and you are in a committed relationship and both you and your partner have been tested and resulted negative for any STI, then you can avoid using condoms for oral and anal sex.
However, if you're into a new relationship or in any type of open relationship and your partner is not tested, you should use condoms for oral and anal sex.
Here are a few tips to make oral sex with a condom more pleasurable:
Use lube inside the condom: You can heighten the sensations and enhance intimacy if you add a few drops of intimate lube inside the condom.
Use flavoured lube: Flavoured lubricant – just like flavoured condoms – has been invented mostly for this purpose. The lube covers the smell and taste of latex, making oral sex with a condom more pleasurable for your partner.
Use a larger size condom: When you're using condoms for oral sex, the condom's role is to act as a barrier between your bodies. However, you can use a larger condom if you feel that the snug fit reduces the pleasure.
Make it fun: Sex should be about connection with your partner rather than chasing the climax. Instead of focusing on the amount of sensations you can't feel because of the condom, focus on your partner and enjoy the moment.
Using condoms for anal sex is as crucial as using them for oral sex. Here's how to make it better:
Use the right size condom: The main reason people hate condoms is because they're not using the right condom size. As we mentioned above, it is essential to measure your penis and use condoms that fit you properly. A small condom can hurt you and it may break during intercourse, leaving you exposed to infections. A large condom could slip off and get lost or stuck inside your partner's body.
Involve your partner: Don't choose the condoms alone. Some people like smoother condoms, especially if they haven't had anal sex before. Others like rougher action and might want to find out how a textured condom feels in the rear. Always ask your partner what kind of condoms they prefer.
Use a cooling condom: Cooling condoms are coated with a cooling effect lube that might have a slightly numbing sensation on the muscles around the anus. This type of condoms might help your partner relax, making anal sex much more pleasurable.
Use anal lube: Anal lube is personal lubricant that has a thicker and longer lasting formula. This lube is designed to add more moisture compared to standard lube, considering the lack of natural lubrication in the area. Some anal lubes also contain substances that can relax the muscles around the anus and facilitate penetration.
Add a drop of lube inside the condom: Like oral sex, anal sex with a condom might be more pleasurable for the giver if you add a few drops of lube inside the condom. The extra slickness can increase intimacy.
Use extra safe condoms: Extra safe condoms are condoms thicker than standard. These condoms have been recommended for anal sex for decades. They are more resistant to friction than standard or thin condoms.
Should I use condoms if my partner is on the pill?
You should use condoms even if your partner is on the pill if you've not been together for long and if you haven't been tested.
In a long-term relationship, you might want to keep using condoms in addition to hormonal birth control if the idea of an accidental pregnancy scares you. No contraceptive method is bullet-proof, but using condoms and hormonal birth control is safer than using only one method.
If you are in any kind of open relationship, from polyamory to cheating, you should keep using condoms even if your partner is on birth control.
If both of you have been tested and yours is a monogamous relationship, discuss with your partner and decide what is best for you.
Where can I buy magnum condoms?
You can buy magnum condoms right here at Condoms.uk. We stock a wide range of genuine condoms sourced from trusted brands and deliver all orders in discreet packaging to protect your privacy. So, what are you waiting for? Browse our range right now to find the best magnum condoms.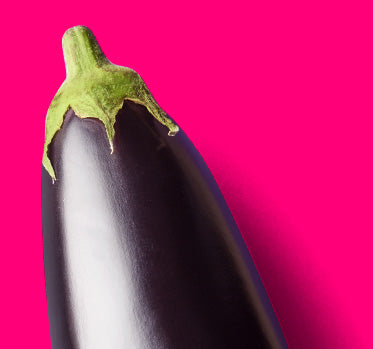 Don't miss out on something big.
Get the latest voucher codes, promotions and product launches straight to your inbox. Subscribe to our email newsletter now:
*By clicking Subscribe, you are agreeing to receive email newsletters from Condoms.uk. Your data will be processed in accordance with our Privacy & Cookie Policy.
Condoms.uk is rated 4.7 stars by uk.trustpilot.com based on 575 reviews
Condoms.uk 2023 All Rights Reserved